home / information download

Herbal health information booklets
Information booklets for you to download
An array of natural and herbal health information booklets are available for you to download FREE of charge. If you are not able to find the information you are looking for, contact the A.Vogel herbal helpline.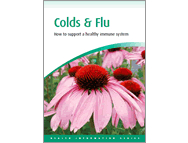 Colds & Flu
How can you support your immune system?
Learn what the immune system is and how it works. Find out what happens when it isn't up to scratch and why you might have a weakened immune system. Learn about the latest research on how Echinaea strengthens the immune system.


Colds & Flu booklet (639kb)
---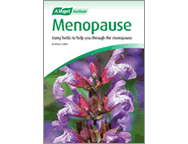 Menopause
Using herbs to help you through the menopause
Two of the most common symptoms of the menopause are hot flushes and night sweats. This guide provides dietary and lifestyle tips during the menopause and how the herb Sage can help with the most common symptoms during this time of life. 

Menopause booklet (335kb)
---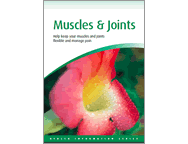 Muscles & Joints
Tips to keep your muscles and joints flexible and manage pain
Information on joint and muscle problems and how herbs such as Arnica and Devil's Claw can help. Also advice on diet and lifestyle to keep your joints moving and flexible. 
---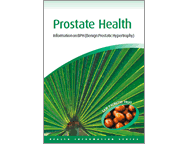 Prostate Health
50% of men over 50 suffer symptoms of an enlarged prostate
This guide looks at the problem of an enlarged prostate, otherwise known as BPH (Benign Prostatic Hypertrophy), what symptoms to look out for and how Saw palmetto herb and diet can help. Also includes a quick and easy-to-use questionnaire to help you assess whether or not you have an enlarged prostate.

Prostate Health booklet (274kb)

---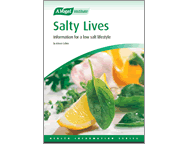 Salty Lives
We are constantly being told to cut down our salt intake

We need salt, but modern day living means that we have too much of it. Find out what salt is, why we need it and how much we should be using every day. Learn how you can reduce the amount of salt you use and how to achieve a healthy balance in your meals.


Salty Lives booklet (363kb)

---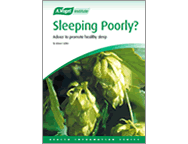 Sleeping Poorly?
How to promote healthy sleep
Sleep is designed to restore us to full function after a period of wearing ourselves out. However, many people do not get enough of it. This guide looks at how you can get better sleep and how herbs such as valerian and hops can help you sleep more soundly.

Sleeping Poorly? booklet ( 263kb)
---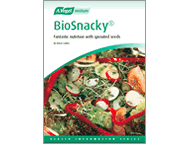 Sprouting with BioSnacky

Do you eat enough healthy food?
The answer is likely to be 'probably not'. Sprouts can be your answer. Learn what they are and how to grow them. Freshly sprouted seeds can provide you with a useful supplement to your usual diet. They are also extremely tasty!


BioSnacky booklet (395kb)

print